Woohoo for Brand New Noise !!! We are huge fans of these brilliant little noise boxes, or as Richard Upchurch likes to call them, sound gadgets. The aesthetic, the impetus, the way they are made, make these toys an ideal addition to every playful household. The hands, hearts and minds that go into each one, put them top of the list of toys to give this holiday season. A gift that so effortlessly crosses the age and gender arc is hard to find, but Brand New Noise does it. It is the ultimate unique item to increase personal connections and creativity.
Brand New Noise is cool. There may be other words to describe it, but really, it is just cool as cool can be. It is the soul object manifestation of the equally haute Richard Upchurch who we had the pleasure of meeting recently when we were invited to come and tinker in Brand New Noise studio in Brooklyn.
Let's just say it was delight at first sight and I could not help but turn the space into Santa's workshop with iconic characters that each fit perfectly into my imaginations like pieces to a festive puzzle. I mean in 20 years Richard's beard will probably be white, and when you meet JoAnna, his studio partner with her apron and snug felted hat, you will see she is the feminine balance, making sure everything looks just right, and feels loved. It truly has the beauty of what we would imagine a toy workshop to be, only it is not some antiquated version, it is here and now, and ever so real and great, and did I mention cool? An especially active place at this time of year, it was busy hands all round… and I don't want to describe all the workers as elves to sprinkle further magic on this vision, but it is the truth that one helper had on a pointy beanie with her name written in big letters on the front of it TANNER. I did not really get to chat with this helper as she had to dash off on other duties, but I had a moment to speak with Carolina and Kaylasia two other talented employees lucky to be a part of the Brand New Noise team.
There really is so much life put into each gadget, and as I watched them sound testing, every single one before it went into the box to be shipped out, Kaylasia said "I often wonder if everyone knows we say hello?" Each gadget has a short message recorded on it, so when it gets to you, you can listen, and if people press the listen button before they press the speak button, well then they would get that little extra goodness out of life… and you all know there is a lot more than meets the eye with that message.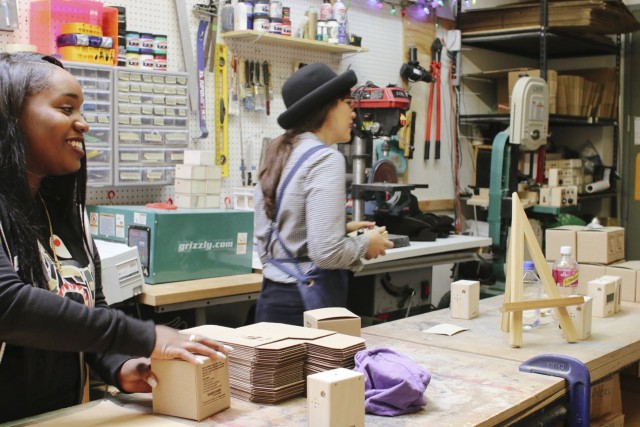 Richard generously invited Elle to create her own sound gadget and it was not hard for her to think of what she wanted to make… you guessed it… a Dog. Richard was incredibly accommodating to her ideas and even went so far to shape little wooden dog ears to go on the top of her device. It was heart warming to see the pair of them designing together, bringing Elle's goal to life, and then even more rewarding to see Richard sharing his impressive electronic skills, whilst Elle perfected her dog bark.
At this point Richard does not publicize opportunities like this, but it would make a great gift to children if Brand New Noise were able to offer a "Build Your Own Sound Gadget" studio experience to purchase. So don't hesitate to connect that way if you are interested.
Further admirable things about Brand New Noise is that they offer internship for Brooklyn-based organizations such as Good Shepherd Services and Exalt Youth which elevate expectations of personal success and self-sufficiency for inner-city students ages 15-19. In addition to this good measure each recorder is handmade in Brooklyn with sustainable American wood.
Be sure to watch the video at the bottom of the post to get the added audio visual dimension of the Brand New Noise experience.
P.S. If you were wondering where Maya was, she was spending the day with Ida Pearle.
Purchase from Brand New Noise
Follow Brand New Noise on Instagram