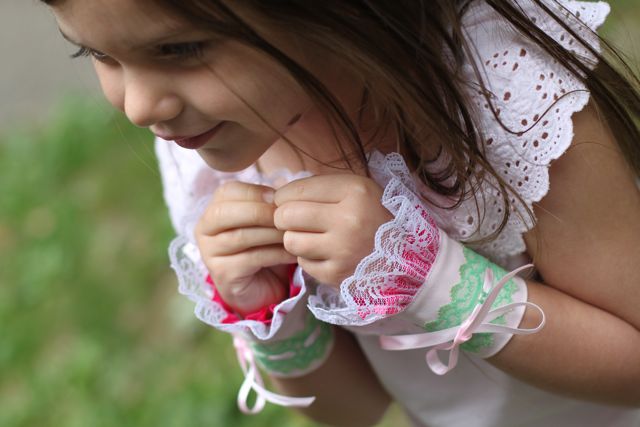 We had a productive weekend of sewing – Maya and I worked on pretty things for her 5th Birthday party that is now less than two weeks away. Hard to believe my first baby is turning five! As you all know I relish the creative opportunity of a Child's Birthday party. We had so much fun at last years Rainbow Sparkle Party…this year Maya having a Fancy Rose Party.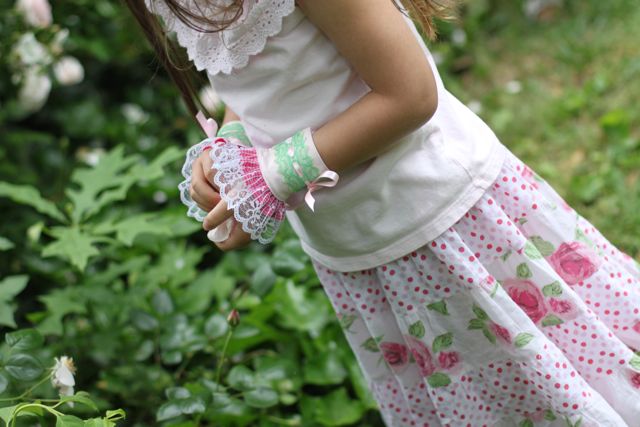 There are a few items on Maya's list that equate to fancy – gloves, fans, and parasols, to name a few. So Maya and I set to work with these things in mind. Starting first with gloves. It can be trickly to find child size gloves, and even trickier to put them on and keep them, so I came up with this design of what Maya has named "Wrist Gloves"….and oh my goodness do they make one fancy!
Together we have designed and made half a dozen wrist gloves, that we will give to each of our guests in a pretty little pink organza bag. Looking forward to setting up on party day and seeing all the young ladies in their finery!