On Thursday morning the Girls asked to go to the woods again. The deer sighting of Tuesday was still fresh with them and they wanted to explore the woods further. I love a walk in the forest and on a hot day it is such a cool spot. We had bright sunshine instead of the rain and mist of the previous day and so when we reached the end of our street we could see the Manhattan skyline. I have to say it is a delight to be on the edge of the woods and see this amazing city in the distance. It is like we made a step away, but it is still there, and in fact we can see it is still there, by walking just a block up the road.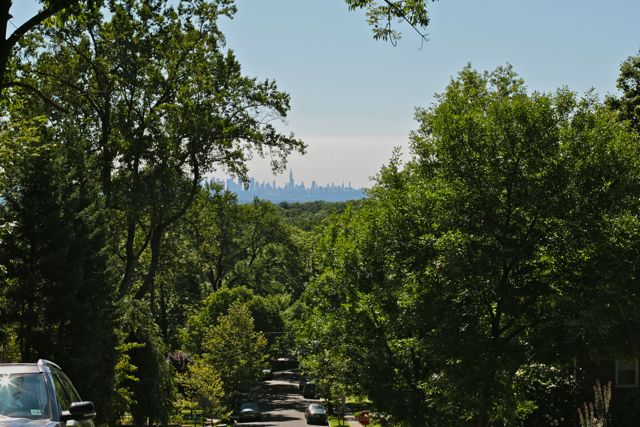 We packed a picnic lunch and planned to hike a little further than the day before. The Girls seemed  familiar with the track, even though we had only walked it once. Maya noted that our track is the yellow track, and would point out each time she saw a yellow square. This is reassuring to me that she is already reading the the tracks.
When we came to a fork, Maya choose which way she wanted to go. We walked along for a while until we came to a log in the middle of the path. This meant it was snack time to the Girls and so the log became a seat. Maya finished eating before Elle and so while Elle and I were still seated Maya went for a wander. I saw her leave the track and then stop a few steps in.  Looking intently I could her focusing on something. I looked in the direction she was staring and caught sight just as she exclaimed "Mummy look at the giant tipi!". I granted her permission to run over there and Elle and I followed behind. It was in fact two structures, a tipi and a lean-to. We had seen a small tipi that we thought was pretty exciting the first time we walked through Mills reservation, but this tipi was so much larger.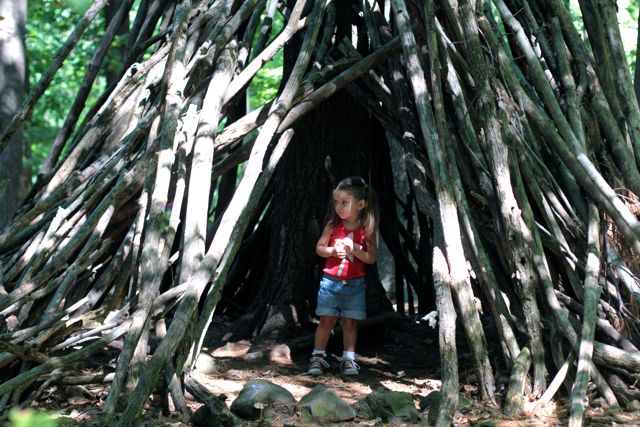 The Girls made themselves right at home in the tipi. I had to knock on the imaginary door and be the visitor who lived in the other structure along with what ever other imaginary thing Maya direct me to do. This play continued for some time thus we did not hike any further…and so goes our afternoon in the woods playing in the tipi.