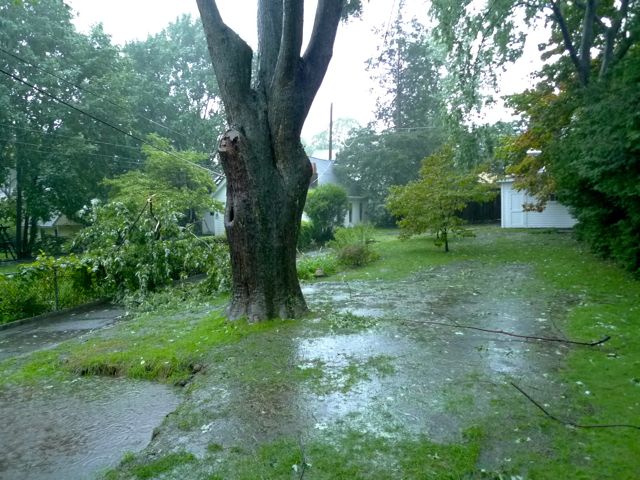 Maya took great interest in Hurricane Irene, or the "Hurricator" as she called it  – with many questions and much excitement over the goings on of it all. With the buzz of activity, she too had her own hurricane preparations, which involved writing warning notes to our neighbours and sticking them on their doors. Both she and Elle ran up and down the street with pink hand cut notes and sticky tape, making sure everyone knew what was coming our way. All of the preparation hustle and bustle was rather exciting to Maya, who was easily caught up in the drama of the impending natural disaster. I found myself enjoying her enthusiasm, and told her that "I remember when I was a Girl, that it was so exciting when a things like this happened". Maya liked hearing me tell her about the floods we used to have, and that we would all sit around the radio listening for news about the rising flood waters. An events like this, to a child without the capability to understand the impact of natural disaster, can be a foreboding thrill.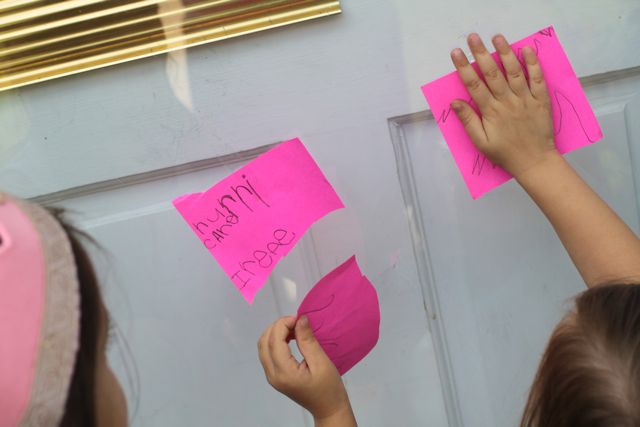 "When is the hurricator going to be here?" Maya asked me at least 20 times. "The hurricane? Well we are not sure exactly, but they think it will come in the morning while we are asleep." I replied. "What will the hurricator do?" Maya asked, also at least 20 times. "Well that will depend on how strong it is when it gets to us, but there will be lots of rain and strong wind, and trees might fall down and our power might go out."
Which is exactly what Irene did when she swept into New Jersey before dawn on Sunday Morning. We were well prepared for Irene in her diminished state, although we could have been better prepared had the hurricane been worse than it was when it reached us. We did however do what we felt we needed to do – which was sufficient for this hurricane.
Our preparation involved removing anything free standing from the yard – plant pots, seats, bikes and toys. We also removed our air conditioner from our attic window. We have storm windows on most of our windows, and so we made sure both sets of glass were secured and locked. We also discussed closing our shutters – but decided that we did not need to this time. Inside the house we unplugged all small appliances and made sure our phones were fully charged. I made ice blocks in plastic containers so that our freezer was full of ice. We filled the bath tub so that we had water to flush the toilets if need be. All candles and flashlight were put in one spot for easy access, and we had a good supply of bottled water and non perishable healthy snack food.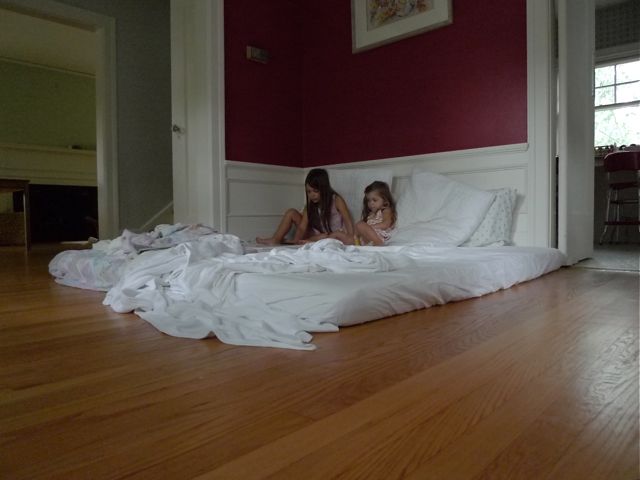 When it came time for bed on the eve of Irene, we moved the Girls sleeping mattresses into the dinning room on the first floor. This was the furthest point from old trees – and it made sense to have them sleep in a corner without windows. We have four very large old trees, one of which is rotten and so we were concerned we might have a tree fall on our house. As it turned out, only a limb fell off the tree, and missed our house completely, landing over our neighbours fence. We are thanking our lucky stars that this was the outcome – it would have been devastating to have the tree land on our new home.
That along with some minor flooding in our yard and basement, this was the extent of the damage we received – oh and our giant sink hole! It was indeed a sleepless night for Cam and I – with Cam wandering around the house watching out the windows. Our neighbour had a tree fall in their yard, which took out a power line and so our side of the street and the backing houses in the next street lost power.
Loosing power is ok for a few hours, but any more than 3 and the novelty wears off, especially when it means no hot water, no internet, and all the other things like a cold fridge, and lights! Lights we could live with out for a couple of days, but I was really missing my regular peruse of the internet. The Girls were happy by candle light and we busied ourselves with craft. I made them some very cute cardboard mushrooms from the recycling bin to colour in.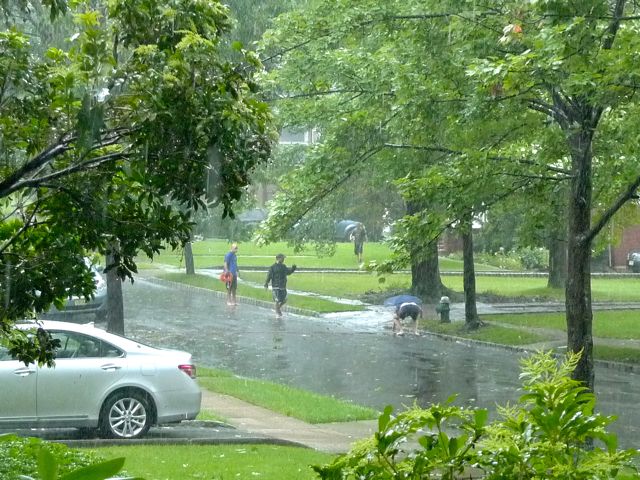 As it turned out one side of the street still had power and so by mid morning after Irene struck, there were numerous extension cords running across the road. I loved that we had moved into such a jovial street and many of the neighbours were scurrying around in the pouring rain sharing electricity. People were in good spirits and all working together to fix the situation. For some it was a desperate situation, as they had over a foot of water in their basements. Sump pumps were used – which of course needed power to operate. We were glad not to have this issue – the water we had in the basement I removed with the mop, ten buckets later. Our neighbours  across the road came to us and offered us an extension cord, which I gratefully took to save the contents of our fridge.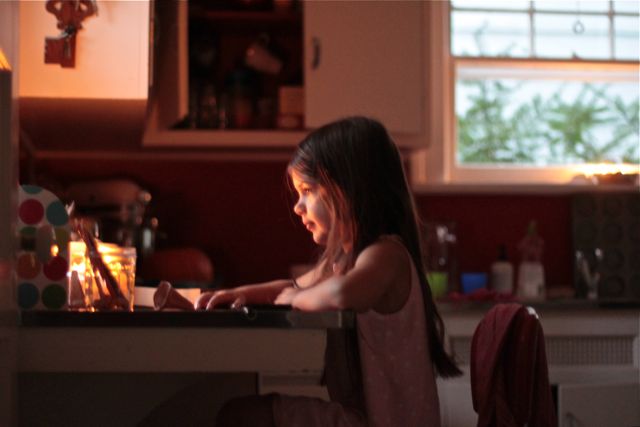 After half a day of being without power, and no signs of getting it back (we called PSE&G and they said it would be restored within a week!) I went for a walk to see what I could see. Being the kind of person that I am, I can not sit back and wait for things to happen. The Girls and I walked around the neighbourhood during a break in the rain, and by chance we came across a tree removal company. Montclair had hundreds of tree fall and so they were busy at work. We watched them for a while and as good timing had it, they were just about finished removing a tree. I talked to them about the tree that was on the power line in our neighbours back yard and within 20 minutes they were the yard bhind our house, removing our neighbours tree from the power line. I felt pretty pleased that I had intercepted this tree removal works, as who knows when they would have reached us! At least with the tree gone, the power company could now work on the line…but that took another day.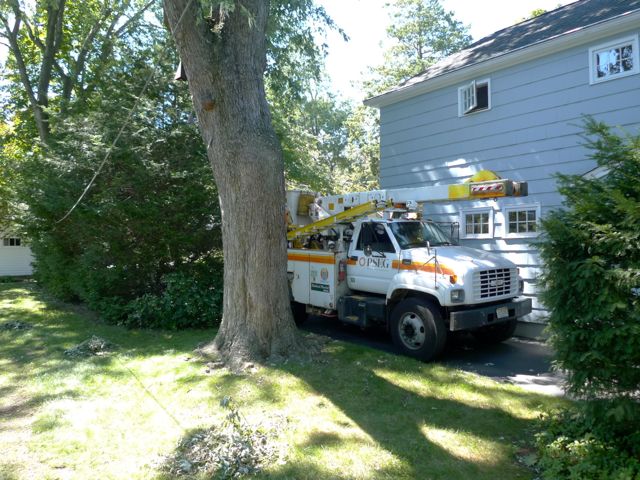 Monday afternoon the power company arrived – with a very warm welcome I might add. Stay at home mothers and stay at home workers darted out their front doors at the sounds of the heavy truck idling in the street. Before I knew it I had a handful of people mingling in my yard exuberant with the promise of the electricity restoration. Two men went to work in our back yard and within 2 hours we had lights!
Meanwhile I continued restoring order to our house, all the while thinking of the saying "My house looks like a hurricane hit it". I spent over an hour raking up the wind slashed debris in our yard feeling very grateful this was all I had to do. So many sticks and leaves all over our place. I had a chuckle to myself – Maya was right, Irene really was a hurricator!