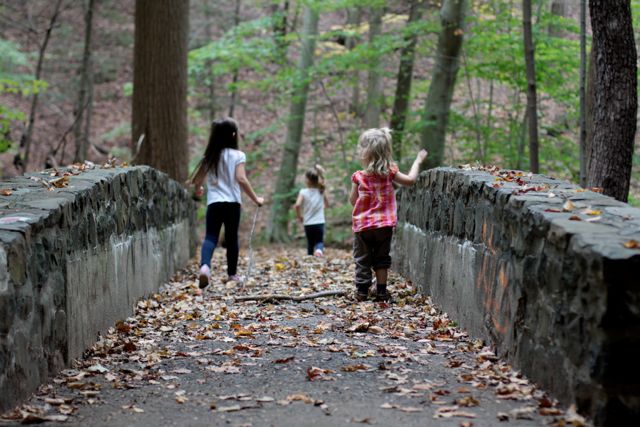 On our Wednesday Hike this week (that was actually on Tuesday because of predicted rain) we went to the South Mountain Preservation. This is a little further away than the hikes we have been doing and involved a 20 minute drive from Montclair to get there. As usual we left straight after school pick up, without any dilly dallying. It was an easy scenic drive, and so we were at the trailhead before 3pm.
South Mountain Reservation is an enormous reservation, but we specifically wanted to see Hemlock Falls. We parked our cars at an entrance close to the waterfall location – (but not the closest as we waned a good walk). Anneliese had not been on this hike before either and so we were not exactly sure how long a hike it would be, but it seemed short enough for the four mini hikers we have in tow. We followed the yellow trail blaze – that is the colour for all of the trails making up the Lenape Indian trail – You might recall I have mentioned the Lenape trail before here.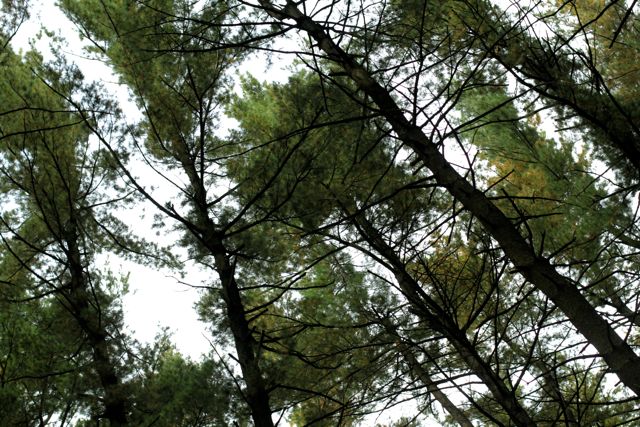 This hike was different to other trails we have hiked in the area, as the beginning of it traversed a beautiful pine grove, made up of gigantic old pines. Characteristic of pine groves, the bed of needles beneath the trees is so thick it prevents any ground vegetation from growing, so the trees stand as lone pines. We came across a well developed teepee in the pine grove but we were pretty excited to get to the waterfall, and so did not stop long.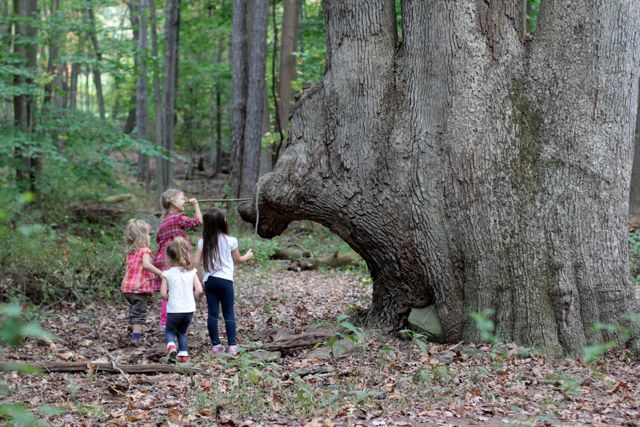 We continued on the path for about half an hour, along the way we saw some beautiful unique trees, fern forests, and pretty stone bridges. We then reached a bench facing a small waterfall. It was not the grand waterfall we were expecting, but as is the case with waterfalls, they vary in flow from season to season, and so we accepted it happily. We put its size down to being the end of Summer, and commented that it would be bigger in early spring with snow melt.
We sat for quite a while feeling content enough with this pretty space. Maya handed out our snack of ANZAC biscuits – obviously my turn to bake! We then decided to climb up to the top of the small water fall. It was here that Annaliese and Maya discovered a water snake!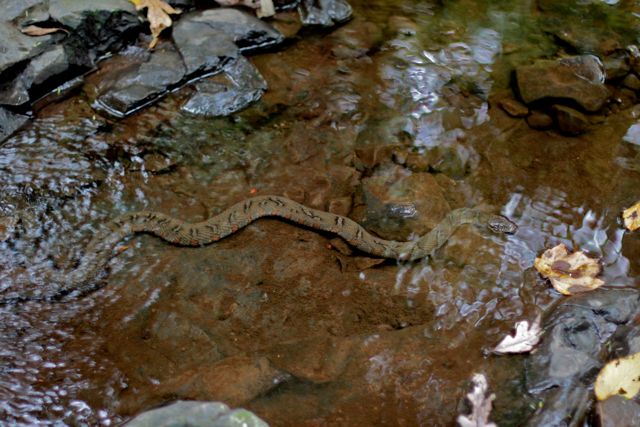 I could not believe my ears and so quickly scaled the rocks to see for myself. I could hear Maya telling Anneliese as I reached the top "Mummy knows about snakes, she has even killed one!". I felt a sense of guilt for ever killing a beautiful snake on hearing this, and had to elaborate Maya's story. Everyone knows Australia has some of the most deadly snakes in the world, and I happened to have grown up with lots of snake experiences. Some of which were a get or be got situation, and so you do what your instincts tell you to do, in my case was to kill a snake.
Maya has a serious fascination with snakes, and so many a time I have retold her my childhood memories of brown snakes (King or Eastern) rearing their heads striking, and my various family members defending dogs, cattle and children. Due to this, we all stood around watching the snake for a while. The snake was not moving – other than the thlick thlick of its tongue. It stayed still for what seemed like a long time in the shallow pool, and then slowly made moves down the waterfall. We were enthralled, watching this water snake (which I later identified as the Northern Water Snake) swim the tiers of the falls, with some very un-elegant thumps at each drop. By the time we had scurried back down to the base of the falls, the snake was nowhere to be seen.
It was then that I decided to explore a little further. I rounded a slight bend and there before me was a much larger waterfall. Feeling rather silly, I shouted "Anneliese, you wont believe it, the waterfall is over here!" As it had turned out, we had stopped at the first smaller falls thinking it was Hemlock Falls while less than 100 meters more, were the actual, and much more impressive Hemlock Falls.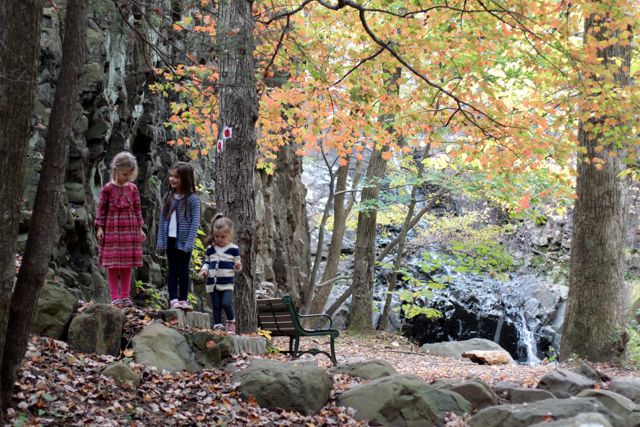 Another hour went by of us playing around these falls, throwing in rocks, splashing in the water, climbing the stairs to the top. The afternoon slipped by and the woods started to get darker with the sun sinking close to the trees. The walk back always takes some encouragement as the Girls start saying "I'm tired" and there is not the incentive of a baked treat to keep them light on their feet. So to help us on our way back, we sing, and oh what silly songs we sing! It is amazing how quickly a long walk is over when we are all merrily singing – and it sure beats whining! When we reached our cars it was 5:40pm. We had four exhausted little girls ready for dinner and bed. Knowing that our hikes can be so engaging I have started preparing dinner before we go so that when we arrive home, like on this occasion at 6pm, dinner and bed come easily – which seems like a good thing to keep on doing as we love these hikes so much, we never want to leave!