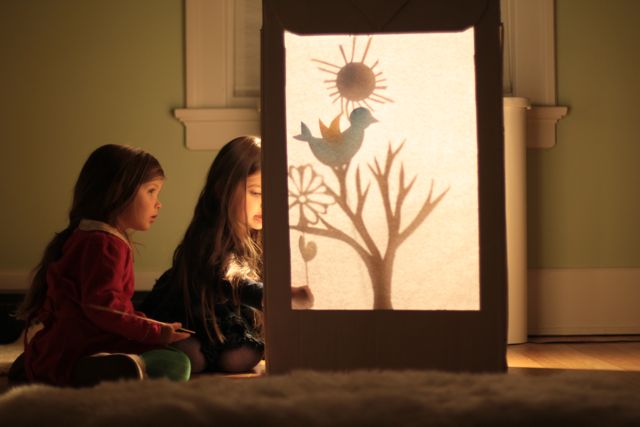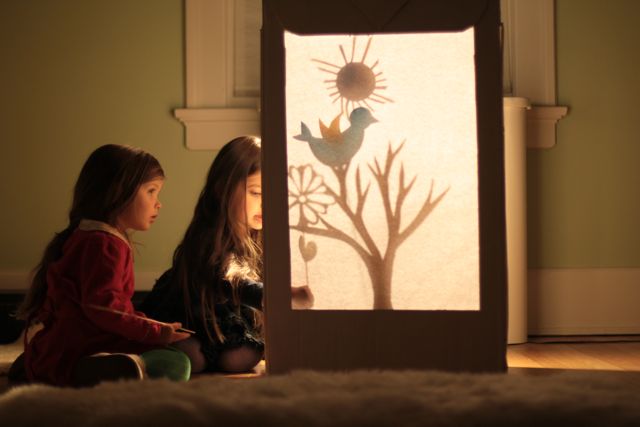 I was carried away in a gust of inspiration on Thursday last week, and this was the outcome: a shadow puppet theatre box! What fun right? This idea must have been bubbling in my subconscious from the frequent vision of the rainbow silk silhouettes that I mentioned in my last post. I rose Thursday morning, excited about the idea and after dropping Maya at School, Elle and I went straight to work making it. Firstly, I visited our garage and picked out two of the saved moving boxes (ever so handy, I do not know why anyone would ever throw them out!) and then I made a small list of supplies I needed from the hardware store: exacto knife blades, matt knife, masking tape, and wooden skewers. Elle does not like to be rushed in the mornings and was not impressed about getting dressed 'this very minute', so we negotiated that she would come to the hardware store in her pajamas with sweater and coat over them – things one will agree to for craft!
The trip to the hardware store was a success, I found everything I needed. I am very pleased with my knew matt knife, I can not believe I have gone this long without one. Anyway, I put it to good use, as you will see, cutting out sections of one of the boxes, and then cutting up another to form a front piece to sandwich paper to the box. I also cut out a few other shapes to make it ornate. I then decided that I would paint it all white. Normally I like cardboard left natural, but the boxes had lots of stickers and moving house scribble and dirt on them, and paint is great for making something look fresher.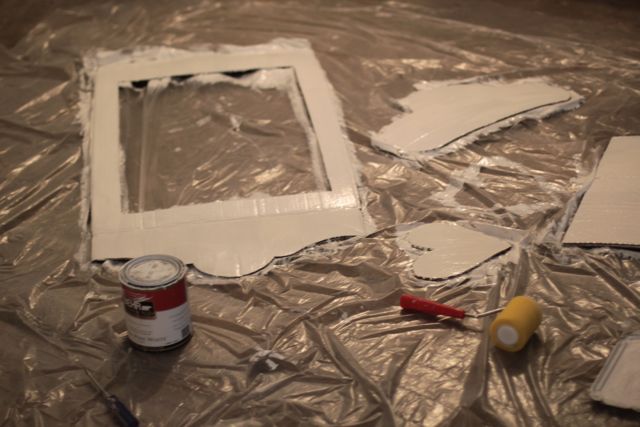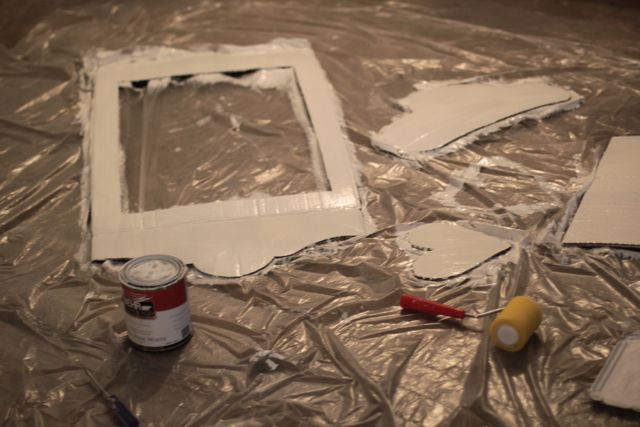 I lay out drip plastic in the basement and painted the cardboard with a paintbrush (I thought of using the paint roller but was happy with brush strokes). I also decided during the painting process that I liked the corrugated affect and so did not paint it solid white, but let the paint skim the surface so it looks obviously cardboard. I then left it all to dry.
A few hours latter, after I collected Maya from school, the pieces were dry enough that I could assemble it. I used wide long paper from a roll for the front of the box – I was having second thoughts while doing this and came to the conclusion that next time I would use white fabric. I went ahead with the paper anyway as my second thoughts were coinciding with applied wet glue. I sandwiched the paper between the cardboard with wood working glue, and held it all in place with clothes pegs. While I was doing this, Elle decided that she needed to work on her own project and went upstairs to get something. I was focused on gluing, during which time she returned with her scissors and sticky tape and some hearts she had painted the day before. I looked over and she was sticky taping the hearts to her boots! I was tickled by her idea and then realised Elle is a free thinker and already  blossoming into a creatively independent girl. Feeling very pleased with everything, we headed back upstairs, leaving it to dry over night in the basement.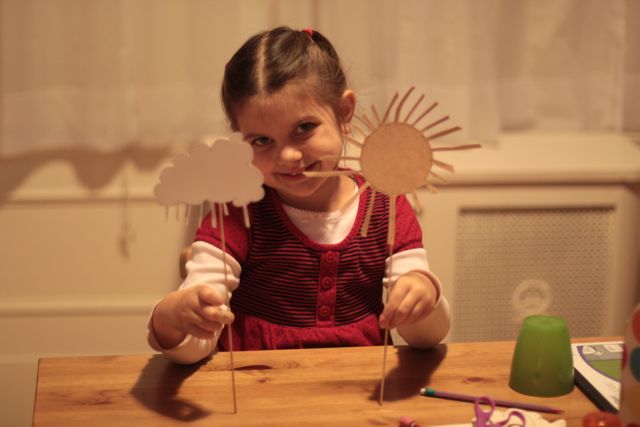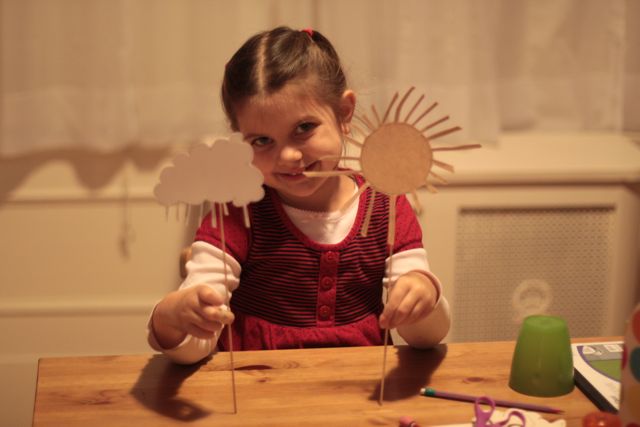 Once upstairs we started designing the puppets. I had Maya sit and draw for me what she wanted and then I cut her drawings out using an exacto blade. Having Maya draw the puppets was the purpose of this project. I wanted her to understand the concept of silhouette, and to focus on the shape of an outer line. At first she did not understand, and was drawing internal details on the puppets, but after I gave her a quick shadow demonstration on the wall in the light of the stairwell, she got it. We all contributed to making puppets. Maya drew a sun, a raincloud and a flower, I made a tree, the moon and stars and a lady, and Elle made a letter M and a leaf – both of which she drew, then cut out with scissors, and taped to a stick herself. The bird was from a previous activity I did with Maya's class. As you can imagine ideas for puppets are endless. I am sure over time we will add to this project, for now though, I am very pleased to share the first performance in our sweet and simple silhouette puppet theatre…