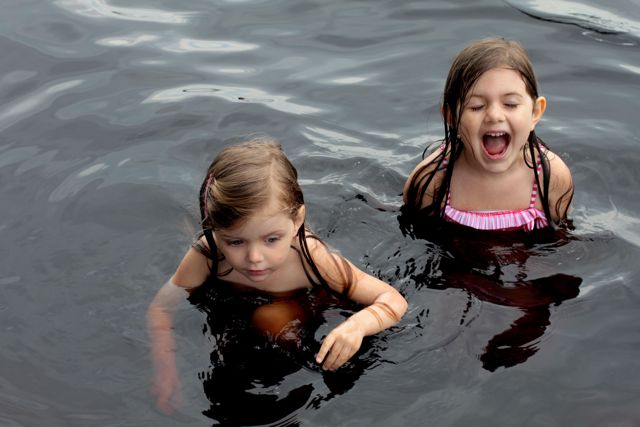 Lake Ainsworth is a fresh water lake at Lennox Head, the next beach town North of Ballina. It is a 15 minute drive along the ocean from Grandmda's house, and half way to Byron Bay from Ballina. The Girls and I went to Lennox Head a few times while we were in Australia as it is a great place to visit for a swim, a walk and something to eat. What makes it an especially good place for a swim is that Lennox Head has both the fresh water lake and the ocean located less than 100 meters from each other. On a day when the ocean is blown out and windy, the sheltered lake will still be perfect, as was the case when we were there. In recent years, due to heat and humidity the lake occasionally gets closed for blue green algae. You can check to see if the lake is closed here.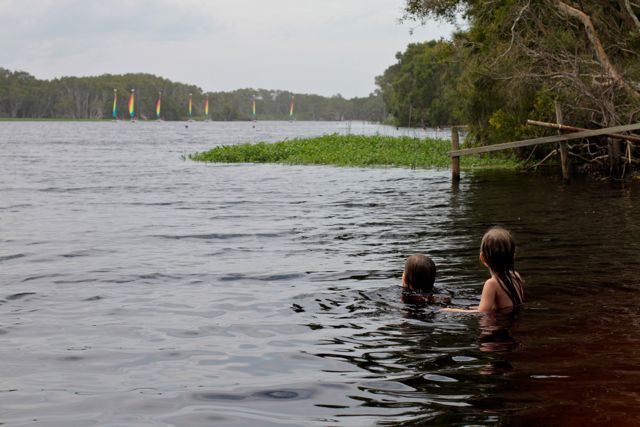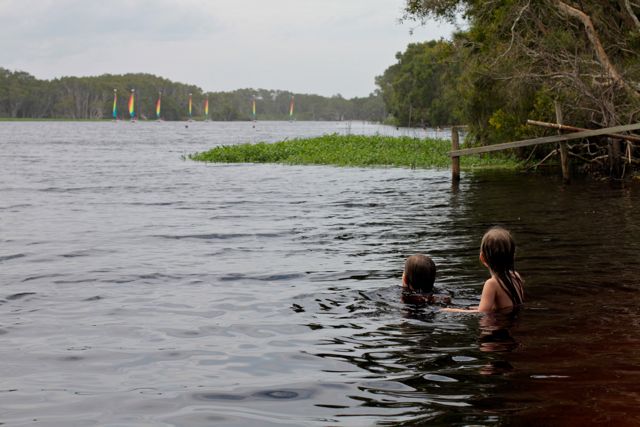 Historically Lake Ainsworth was an Aboriginal women's water hole. It was sacred to indigenous women as a birthing place. Tea tree has wonderful antiseptic qualities so the women were said to birth and wash in the tea tree infused water. Traditionally the lakes were not frequented by men. Although non-Aboriginal men are not expected to abide by these cultural protocols. It is a matter of personal judgment. The key word is respect as long as one enters these lakes with a certain reverence. I am not sure if Lake Ainsworth was specifically used by Arakwal people or the larger Bundjalung tribe, however it remains of cultural and spiritual significance. Both tea tree lakes at Byron Bay and Lennox Head were also considered women's birthing lakes.*
With my past of home birthing Maya and Elle, and my love of natural gentle childbirth, I really cherish the knowledge that this is a place women gave birth.
Somewhere along the track, I also picked up the information that lake Ainsworth is the closest fresh water lake to the ocean in the world. Samples taken from the lake indicate it has existed for over 100 000 years. The lake is separated from the beach by a 100 meter wide strip of banksia trees and pandamas palms. We enjoyed collecting banksia seeds, pandamas fruit and some of the wonderful Norfolk pine needles in the various stages of their life cycle. Such fabulous colours and textures to explore, so familiar to me but new and exciting to the Girls.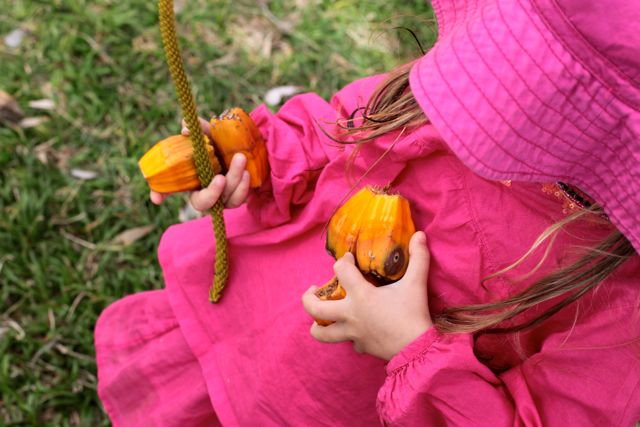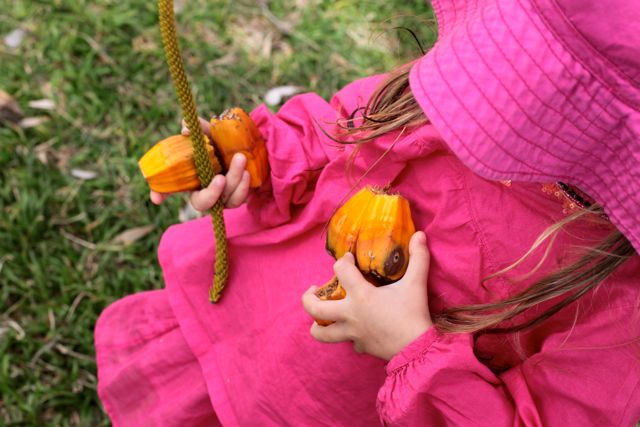 Some of my best childhood memories are of being at Lake Ainsworth, and so it was really special to be there with the girls. Maya had been many times before as a baby, prior to us moving to America, but this was Elle's first swim in the magical waters.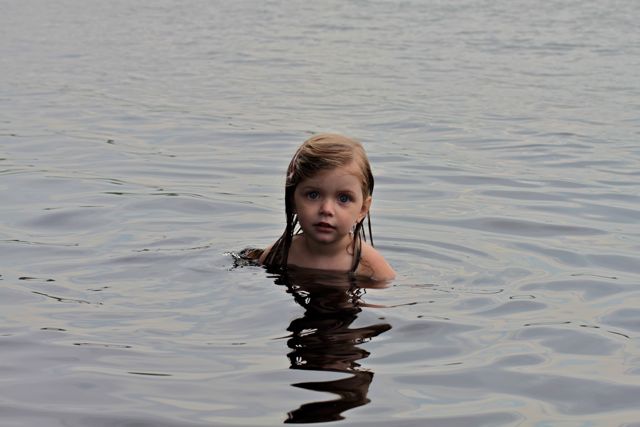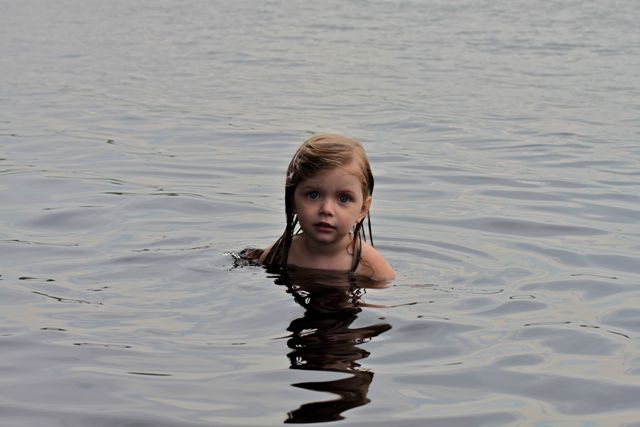 Stained with tea tree leaves from the tee trees (aka Melaleuca trees) growing in and around the lakes, the lake becomes a dark amber or orche red. In the shallows with the sun shining the water is so clear the amazing color is obvious. As the water depth increased so to does the color, until the lake appears deep black. The funny thing is though, while actually in the deep waters, it is still clear at the surface and you can see your body floating in a golden red hue. As a child my friends and I  would swim out to where the water was above our heads and then bravely dive deep to the sandy bottom. It seemed such a dark abyss, I would always swim with my eyes wide open, and enjoy the colour gradient from dark to light when rising to the surface. Ahhhh the days of an active brave childhood.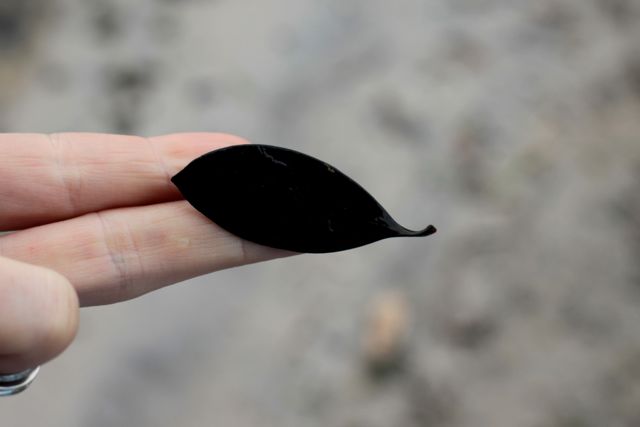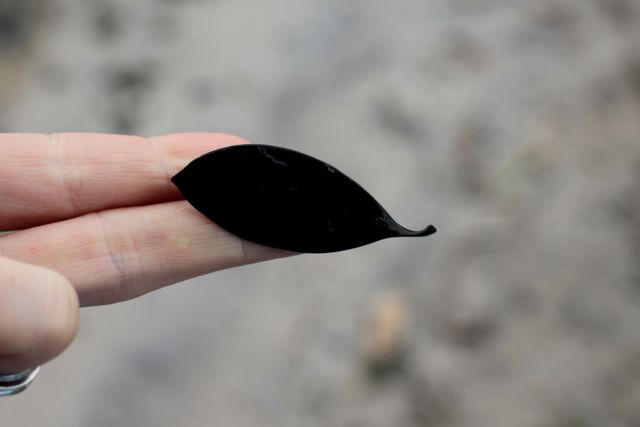 My whole family would visit the lake annually each year for picinics. This is a tradition of many families as Lake Ainsworth has a famous camp ground, that people book into years in advance. My Family did not go there to camp but many of our friend did. We were also winning contestant one year of the Lake Ainsworth Crazy Boat Race…but that my friends, will have to be another post.
* Any reference to Aboriginal history is done so with good intent, and I realise with changing records and opinions what I have said may become or already is outdated or incorrect. I set out only to help share the history of indigenous people on the North Coast to the best of my knowledge. Please feel free to add any information you may know in the comments.