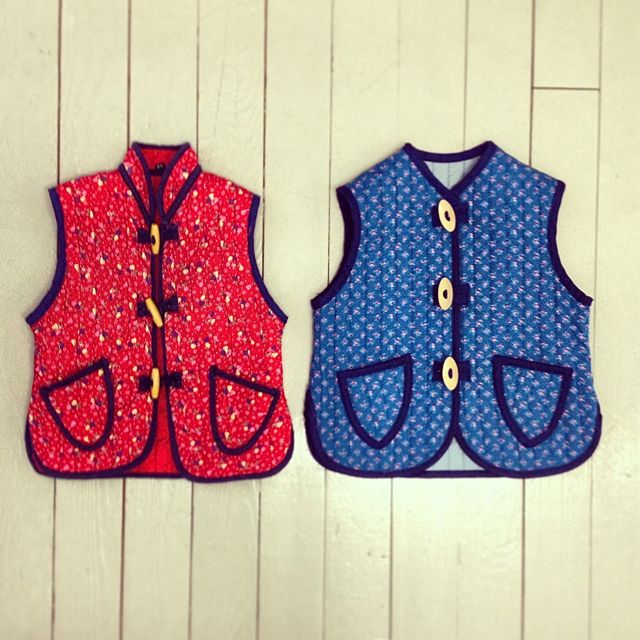 This week (in the midst of our bathroom renovation process) I made a quilted vest for Maya. I drafted the vest pattern off the little red vest that you may recall Elle wearing. The vest was once a coat (see photos of the girls wearing it when they were little) that I made into a vest at the beginning of last Autumn. I was really sad to see that Elle had outgrown this coat and I was having trouble parting with it, so I unpicked the sleeves off and sewed on some matching navy bias binding around the arm holes. This has potentially given us a few more years of wear out of it as a vest. In both coat and vest form, it has been one of my most favorite and versatile items of clothing. It always looked so cute on the girls. I purchased it second hand for $5 when Maya was about 18 months old, not long before we moved from Byron Bay to Manhattan. $5 well spent!
With foresight of Elle eventually growing out of the vest, I decided to draft a pattern off it and make Maya one slightly larger. Maya said she did not want the mandarin collar and so I left it off. This was my first time quilting, and I really enjoyed the process. I am pleased with the job I did – Mothering small children has done wonders for my sewing skills, the result being I am so much more patient at sewing! This vest was hours worth of work, but every day this week I was excited to find time here and there to work on it. In fact a few afternoons I was wishing someone would come and cook my family dinner so I could keep sewing. I did not want to stop. It was quite the process…but worth it! I literally sewed until my fingers bled. Lots of hand tacking was involved and it is tough to push a needle through six layers. Time for me to own a thimble I think!
I am so glad come Spring they will each have a cotton quilted vest – cuter than a puffer vest right? Hopefully Maya will wear it as much as Elle wears hers. Looking forward to seeing my beautiful daughters wearing my handiwork over the years…I am sure to be a sentimental Mama about this item of clothing too.