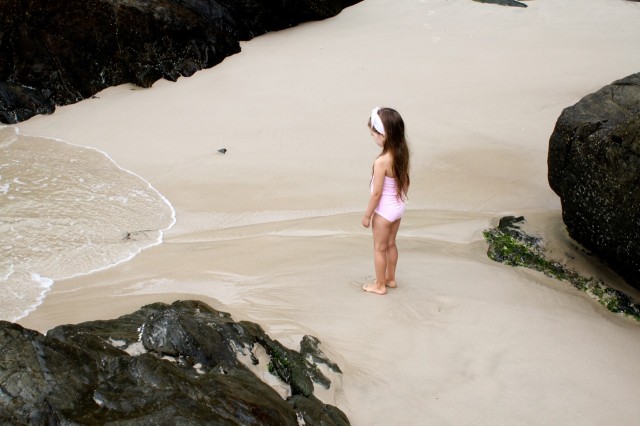 When we arrived back at home in Australia I made a list of all the beaches I wanted to go to. The area of the far north coast of NSW were I grew up has some of the best beaches in the world. I wanted to see my favorites, share them with the girls and make new memories. There is beautiful beach, after beautiful beach. Most of which have very few people on them, even on the busiest weekend of Summer you can find a beach with only a handful of people on it. All of the beaches on my list I had been to before, some I recall visiting only a few times in my childhood, others I would go to daily at various times of my life. The beach at the top of my list was Whites Beach (not white's), at Broken Head.
Located between Byron Bay and Lennox Head, Whites Beach is a mysterious beach, it is isolated and romantic and going to it makes you feel like you are in a novel, on an adventure. There are a few reasons for this. Firstly, the drive to it is off the main roads. It is a long winding dirt road drive through jungle like rainforest. We were lucky on the morning we went as there was was an early morning tropical rain shower. The heavy rain cleaned all of the ferns and palms that grow along the drive, making everything vivid green. Otherwise, the drive can be one dusty brown mess. The plants looked shiny and lush after the rain, and it made for a much more beautiful experience than when they are covered in dirt road dust. I was exclaiming the whole way, "Oh my goodness this is so beautiful, the ferns are so beautiful". I was struck by our luck that this was the perfect morning to go to Broken Head. The rain settled the dirt on the road and made everything look clean and fresh. We were able to drive with our windows down, drinking in the rainforest goodness.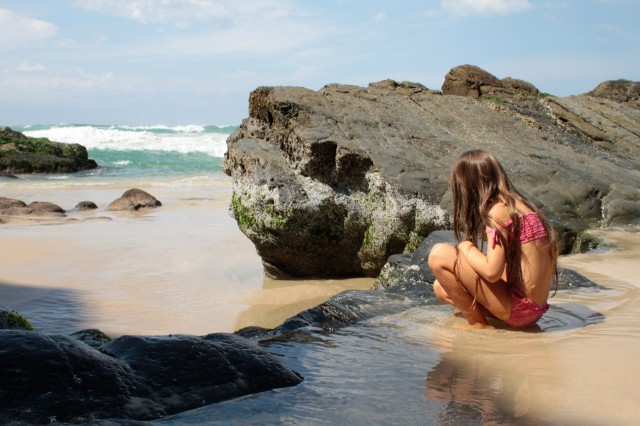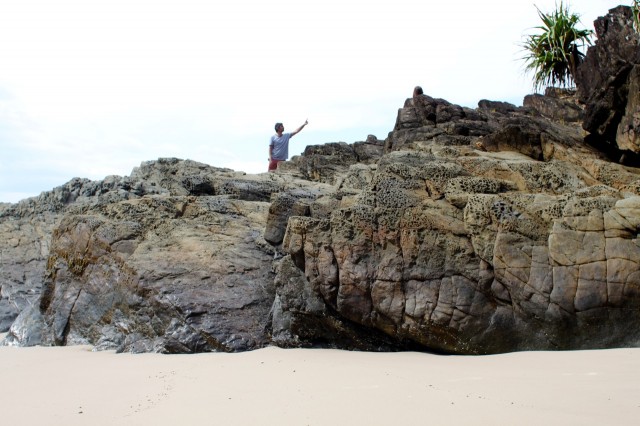 There is very little signage along the dirt road, and so unless you are familiar with the geography, and know the order of the beaches, you might miss Whites walking track entrance. There are three beaches along Seven Mile Beach Road, Kings, Whites, Braes (which becomes Seven Mile Beach). They are all lovely in their own way. Kings was known as a nude boys beach, although I am not sure that this history still stands. Braes Beach does not involve the steep hike to reach it, you can park your car fairly near the beach. It is the mermaid beach with beautiful scattered black rocks that form glorious shallow tidal pools. I had the pleasure of being a mermaid in a short film that was made at Braes Beach when I was young! In between the two, there is Whites Beach, my favorite beach at Broken Head.
I love Whites Beach for the beach pebbles, the cave, the pandamas palms, and because it is remote. We really enjoyed the bush walk to it. It is a 1/2 hour round trip hike, that involves a steep decent. This hike is for people without injuries and a good heart. The children walked it with ease, although for safety at some points we held Elle's hand. It is lush and rocky, and the view is spectacular. There was even wildflowers along the way. I was in heaven.
When you arrive at the bottom of the trail to the beach, there is a great patch of beach pebbles before the sand begins. Perfect for making rock cairns with. Once off the pebbles you are in a wonderland of pristine white sand and huge volcanic rock formations. What I love best of all is the gigantic concave curves in one of the headlands. A beach cave sounds so good right? The imagination is set on fire! I love sitting in the shade of the beach cave and watching the waves role in. We were there at high tide and a tidal lagoon had filled between the large rock masses. We enjoyed this safe pool to swim in, it is after all a remote beach, and we did not want the children to be swept away or to be visited by a shark. Both of which are possibilities at Broken Head beaches.
Maya had a great time exploring. We climbed up to a group of pandamas palms, where a small waterfall was trickling down the rocks. It was warm and slippery and I encourages Maya to slide down the waterfall. Elle spent a lot of time collecting clear mini jellies.
I had a photo shoot to do for Little Creative Factory, and so Elle was wearing their cute swim suit. I don't need reason to take photos, but it was a buzz to be photographing my little girl modeling swimmers in this stunning location.
We felt incredibly fortunate to have this morning in this spot. We discussed as a family how lucky we all were to have fit uninjured bodies to allow us to visit such a place. I tried my hardest to show gratitude for the experience, to give the girls the understanding that this beauty, this moment was something to treasure.