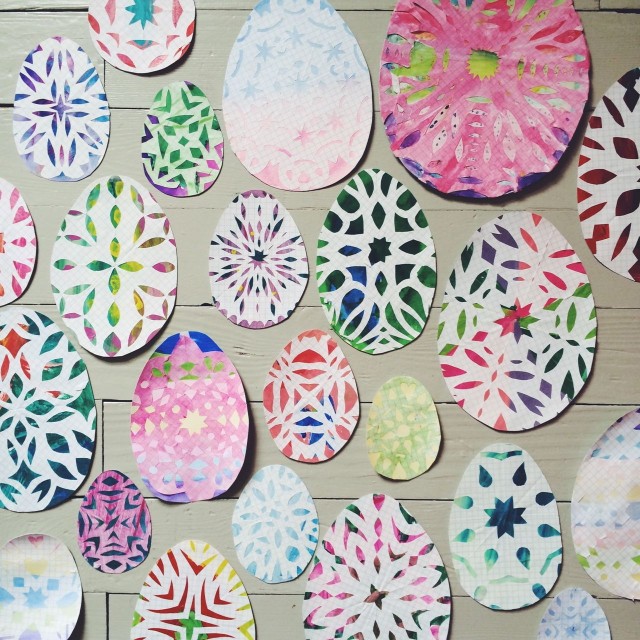 On Spring equinox we remove the Winter snowflakes and make them into Easter eggs. This was one of those projects that happened naturally by putting  1 + 1 together and by being inspired to work with what we've got. I love the recycled aspect of this craft as the paper snowflakes we made in Winter have further life, and evolve into the next seasonal celebration.
It is a simple craft, although small children will need help with the snowflakes as they are delicate and tricky to glue. I have found at this point in time my girls most enjoy painting the eggs and choosing which snowflake to layer with. I do the glueing on the snowflake on part.
As we do this project annually, we have a beautiful collection of Easter egg decorations forming. It really is a very simple project, and I love that is puts all the effort of making the snowflakes to further use, and extends the creative beauty. All you have to do…
1. Rummage through the recycling looking for heavy paper and cardboard that will take paint.
2. Cut a variety of egg shapes.
3. Paint the paper/cardboard eggs.
4. Glue on the snowflakes.
5. Trim around the paper eggs, removing excess snowflake paper.
Like I said, very easy! If you would like to know more about this process you can read about previous occasions making snowflake easter eggs. This year to be more environmentally conscious I did not use the spray adhesive as I have done in the past, instead using watered down school glue. This year we also only used watercolour paints instead of acrylic paint as watercolour paint is the most gentle paint option. I am always asking myself "How can I do this better?" and I think this year our snowflake easter eggs look as effective as any other year, but are better because I made an effort to think of the impact beyond how they look.