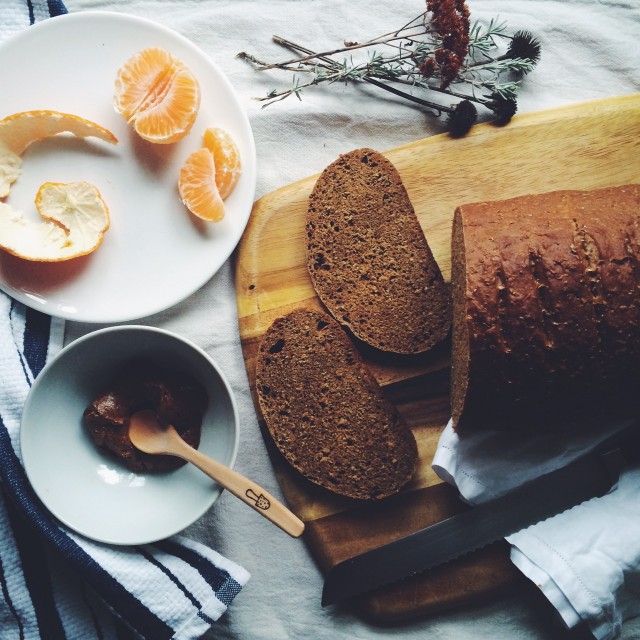 This is one of the yummiest breads ever. I love the rich texture and dark color. Made with nutritious black strap molasses and whole wheat or bran, it is a hearty bread, that keeps well and is soft enough to eat days after… if there is any left! Makes great sandwiches and toast, and so good with winter soups.
Whole Wheat Molasses Bread
1 packet of dry yeast
1 1/4 cup warm water
1/4 cup molasses (or honey)
2 tbsp butter
1 1/2 cup whole wheat flour
3 cups all-purpose flour
Oil
Method 
Sprinkle yeast over warm water in a large bowl, stir until dissolved. Stir in molasses, butter and whole wheat flour. Beat until smooth. Stir in 2 cups of the all-purpose flour to make a smooth, soft dough.
Turn out onto lightly floured surface and knead 8-10 minutes, or until smooth and elastic, adding enough of remaining flour to keep it from being sticky, a tablespoon at a time.
Shape dough into a ball. Place in an oiled  bowl, turning to coat all sides. Cover. Place in a warm place to rise, or if you do not have a warm place, put on top rack of oven. Turn on low for 5 minutes, then turn off (to create a barely warm oven). Place pan of steaming water on bottom rack. Let rise until doubled, 45 minutes to 1 1/4 hours. Punch down and shape into loaf or rolls. Brush with oil and let rise again, although sometimes I skip the second rise and bake it right away. Bake at 400 C degrees for 20-30 minutes.